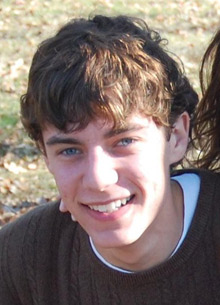 The Tyler Fratzke Memorial Fund has been set up to honor the life of Tyler Michael Fratzke who was killed in a car accident in September of 2009.
As a young child Tyler was shy around strangers but his family always saw another side of him. They saw his outgoing personality and his huge heart. They encouraged him to be confident in who he was. As a family, the Fratzke's spent time with their children camping, canoeing, dining with family and friends and volunteering at Ronald McDonald House, The Dream Factory, Special Olympics and in their church and schools.
By the time he was in middle school, Tyler's personality was visible to all. A mission trip to Mexico in April of 2009 rounded him as an individual. He worked in a poor village helping people who had very few things but tremendous faith. He witnessed Christianity from their point of view and was forever changed.
It is Tyler's legacy and his family's dream to give other children the opportunity to grow from their experiences in working with others and sharing our planet with those who need our help. If your church or organization is planning a mission trip and some families struggle to give their child the opportunity, the Tyler Fratzke Memorial Fund may be able to help make it happen.
Go Make a Difference 4 Tyler Fratzke
Make a donation online by clicking the "Donate Now" button below.
To make a donation by check, please mail or deliver a check made payable to "Tyler Fratzke Memorial Fund" to:
Greater Kansas City Community Foundation
1055 Broadway Blvd., Suite 130
Kansas City, MO 64105