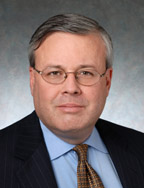 ROBERT OLIVER LESLEY MEMORIAL FUND
This Fund has been established in loving memory of Robert O. Lesley (Bob) by his family.
Bob was born August 20, 1957. He received a BA cum laude from Westminster College in Fulton, MO where he went on to serve on its board of directors for many years. Bob received his JD from Washington University School of Law in St. Louis, MO and was the editor of the University's Law Review and was elected Order of the Coif.
Bob's commitment to the Kansas City community included, but was far from limited to, leadership in the University Associates and on the boards of Kansas City Young Audiences and the Kansas City Friends of Alvin Ailey.
The Robert Oliver Lesley Memorial Fund honors Bob's life and legacy of giving back.
Make a donation online by clicking the "Donate Now" button below.
Thank you for celebrating him with your contribution.